This website is dedicated to the memory of my two dear friends Sandy Duncan and Shyama Peebles who both passed away in 2012.
Cemeteries > Siberia Cemetery
---
SIBERIA CEMETERY /WAVERLEY Cemetery 30°14'19.0S - 120°57'01.5"E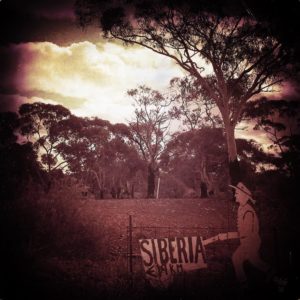 ANDERSON James, known as 'New Zealand Jimmy' d 25 April 1895, age 40, a condenser owner who was speared by an aboriginal. He was from Aberdeen Scotland (Book Jacky, Polly and Jimmy) James death was never registered and the native who supposedly speared him was found not guilty.
Story:- Jack & Polly & Jimmy a tragic tale
BANGSTON Nils d.14 Jun 1919 at Waverly, 15 miles W W of Ora Banda age 68, Cause:- Heart failure, Parents unknown, born Helsinki, Sweden , death registered by J W McPhee, neighbor – Bangston was the co -finder of the 'Little Hero' nugget, 33ozs, 18 penny weight on the Pilbara Goldfields– Coolgardie death cert 7/1919
BETTS David Walter d. between 3 Aug-8 Aug 1913 age abt 50, A Waverley, Cause:- Exposure, In WA about 20yrs, – Broad Arrow death cert 6/1913
BYRNE Andrew William, d 30 Aug 1898, Hush's Gully Siberia, age 60, Cause:- Heart Disease ,Born Sydney NSW, In NSW 57yrs, In WA 3 yrs, Buried on the roadside at Siberia, Reg N Coolgardie 17/1898.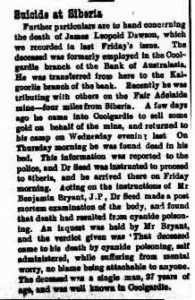 Coolgardie Miner - 5 Aug 1901
DAWSON James Leopold d.1 Aug 1901 age 27, at Fair Adelaide Lease, Siberia, Father:- Peter Dawson (Agent) Mother:- Unknown, Born:- Gumeracha SA, In WA 5yrs, Single, – Coolgardie death cert 92/1901
DILLON John died about 31 Oct 1925 aged 75 years on Crown Lands near the Siberia Hotel – buried in the Siberia cemetery.
Born in Ireland – the son of Elizabeth (nee O'Neill) and Daniel Dillon. He had lived in Western Australia for about 15 years. Supposedly, he died of senile decay.
GREAVES/GRAVES William Robin d. 25 Oct 1923 at camp on cross roads, Siberia, age 71, old age pensioner, Cause:- Supposed heart failure, Parents unknown, Born supposedly in Guilford WA, Coolgardie death certificate 6/1923
KIRKHAM John d. 4 Apr 1920 age 61, Occ:- Dryblower, at Waverley, Father:- John Kirkham (Butcher), Mother:- Maria Prouger, Born:- Bendigo VIC, In VIC and TAS for 47yrs, In WA 14yrs, – Coolgardie death cert 5/1920
KIRKHAM unnamed male d. 10 Mar 1902 lived 3 hours, at Reward Hotel, Waverley, Cause:- Premature birth, Father:- James Kirkham (Publican), Mother:- Mabel Gerturde Hamlyn – Coolgardie death cert 28/1902
Story:- "This bush shall never die for my heart lies beneath it,"
McCORMICK James d 2 Mar 1895, age 19yrs Cause: Fever, 1st Burial at Siberia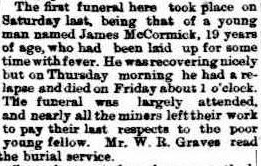 MILLER Donald Brimes. d. 12 Dec 1896 at Siberia Soak age 45, Cause: Inflammation of bowels,
Informant Dr Corlis, Buried Siberia Cemetery. Reg N Coolgardie 47/1896.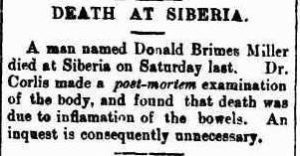 REED/REID William, d. 19 Sept 1901 age 66, Occ:- Miner, at Kirkham's Reward Hotel, Waverley, Cause:- Asthma and a heavy cold, Parents Unknown, Born Bradford England, Single,- Coolgardie death cert 100/1901 (article)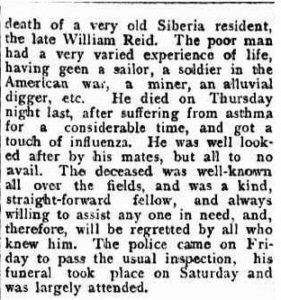 William Reid
THISTLETON AKA LEES, William Thomas, age 56, Occ:- Prospector – died in the bush out from Waverley about 21 Jan 1915, Cause:- Suicide by strychnine, Verdict of the Coroner, In WA 30yrs – Broad Arrow death cert 3/1915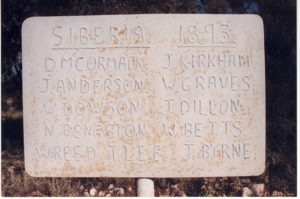 None of those in the Siberia Cemetery were victims of the ill-fated Siberia rush of October 1893.
SIBERIA –Lonely Graves
DUGGAN Edmond d. 29 Jul 1901 age 65 buried near Lady Harris Mine near Mexico GM, Born Co Waterford Ireland. Reg: 247/1901
TAYLOR Ann Smith d. 5 Mar 1899 age 40 , Father:- Archibald, Mother Margaret Thompson, Born, VIC, buried near Mexico Gold Mine Reg :185/1899
---
---