This website is dedicated to the memory of my two dear friends Sandy Duncan and Shyama Peebles who both passed away in 2012.
Cemeteries > Gullewa Cemetery
---
The first reserve to be gazetted was that of the cemetery, reserve 3911, about 1 kilometer from the mines. Only a few months later Thomas Jones of the Gullewa Hotel died and was buried there. He left his wife Mary Anne as Licensee of the Hotel. He was not the first internee but the third. In Oct 1896, Francis Coveny of the Lady Francis GM died of natural causes and was buried on the Gullewa-Yalgoo Road, this then became the cemetery ground.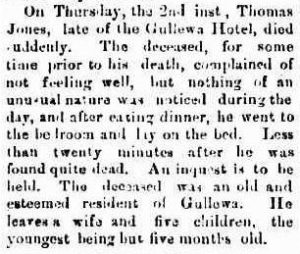 Geraldton Advertiser 8 December 1897, page 3[/caption]
There are eight burials in the cemetery in total. Only two have headstones, so can be exactly located. The most northerly grave is that of
John Duthie MORTON, eldest son of James and Elizabeth Morton, Killed on the Gullewa GM. 20 Aug 1904 aged 23yrs. www.wavmm.com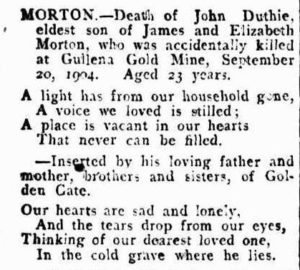 Gullewa MORTON Kalgoorlie Western Argus 18 October 1904, page 16[/caption]
Grave of John Morton DUTHIE taken in 2005 by Kevin Coate
WHITE Alexander R 'Nevill', 29 Oct 1919 aged 35yrs.
Grave of Alex R Nevill WHITE - Gullewa photo taken by Kevin Coate
GRIFFITHS William , 2 Nov 1896, age 38, Miner, found dead from natural causes.
COVENY Francis 24 Oct 1896, aged 55yrs, found deed in his bed, Coroners verdict was natural causes.
SUERDIECK Hedwig Maria Dorothea, died at the Gullewa Hotel, 14 Aug 1897 , aged 62yrs, Born: Breman Germany.
[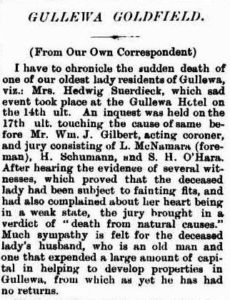 GULLEWA Suerdieck W.A. Record 11 September 1897, page 11[/caption]
Billy an aboriginal police assistant, 18 Sep 1896
Charles F BOCK, 1 April 1906, age 23yrs, Boundary Rider, cause of death unknown. From South Australia

Photo by Wes Hughes
---
---